It is Wednesday, March 16 2022, and I had just finished watching Goya Gumbani perform. I tell him thank you for the interview and head my way towards the next interview - which I'm super excited about. I cross the street, and due to the SXSW gods, the British Music Embassy Hosted event was right in front of me at Cedar St Courtyard.
Snapped a quick pick, and headed my way inside to watch Hamzaa perform. Who is Hamzaa? Hamzaa is a London-born R&B vocalist, also a Saggitarius by the way. We love that. I first heard of Hamzaa through a Nascent-produced song. I'm sure you guys heard me speak on this one a bunch of times, but let's hear it again: Caught Up.

Check out the raw vocals here, the live version and video - it's so good. I'm at tears.
Hamzaa without a doubt, has made an honorable career for herself on not just alone her voice, but her raw and vulnerable REAL personality. It was such a fun time watching her perform, and also doing a short interview afterwards.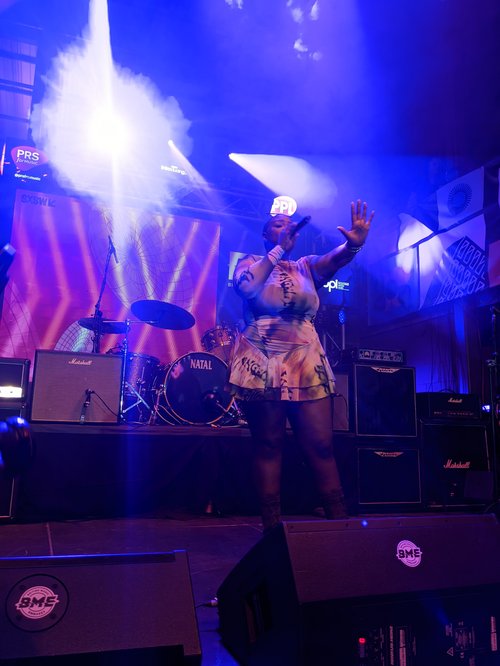 HAMZAA INTERVIEW:
How did you feel with your overall SXSW 2022 experience, any cool stories or lessons learned in this journey?
I would say myself, this experience was new. It was exciting and I think I was actually quite excited to be in a new city altogether. The club was actually really responsive. I felt like I wasn't sure what to expect. And I just can't wait for next year because it was actually so dope.

How do you warm up for your vocals?
Well, I actually spend the majority of the time singing everywhere I go. So it's like I'm on a constant warm up. I usually tend to like go on YouTube and kind of like do some basic warm ups on there and also ones that I've been doing for ages since I've been performing. So yeah, it's a mixture of different things.

Somewhere you'd like to travel to, that you haven't visited yet?
Oh, well I've never been to Tokyo, Japan. I've never been to like South Korea, I've never been to like- that kind of side of Asia. So I'd love, love, I love to experience that and see kind of how their world works. Yeah, that would be pretty interesting.

What song means the most to you?
So the song that means the most to me is a song that isn't out yet, actually called My Mother's Hand and I wrote about my mom. It's really special to me and close to my heart because I wrote it at a time where we both were in such a super vulnerable place. So that means a lot to me.

The new live vocals for Nascent's "Caught Up", is SO beautiful. Is there another song you'd like to do a live rendition for?
You know that's crazy? I would actually love to do another live rendition of Breathing with like a full orchestra. I think Breathing is still yet to receive its flowers like - forsure, forsure.

Do you have a name for your new album coming soon?
I do have a name for the album, but I'm not going to tell you just yet because I kinda want it to be a surprise. I think it's going to mean a lot. It's very simple, but it's going to mean a lot to the people that it's for. So yeah, I'm going to wait for that one.

Any advice for people who are currently going through a difficult time?
If you are going through a difficult time, I would say just remind yourself of who you are. I would also say surround yourself with energy that makes you feel really good. Doesn't have to be lots of people, it doesn't have to be going out and doing things. But just try and center yourself before trying to fix yourself.

Shout outs?
So, I want to give a big shout out to all my supporters out in Texas. I want to give a shoutout to all my supporters that are listening in from anywhere else. Thank you so much for listening to my music. You guys mean the world to me and yeah. Thank you KVRX for having me and, you know, listening in and being a part of my journey. Love, love, love.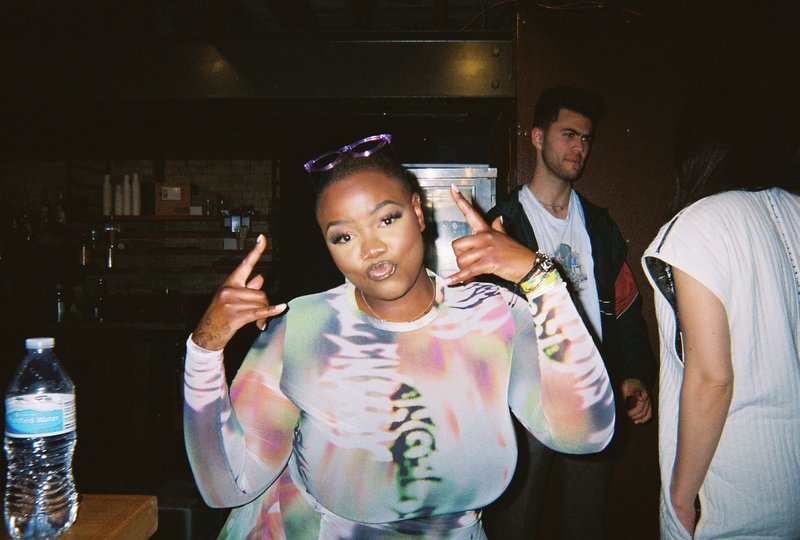 THANK YOU SO MUCH FOR LETTING ME PHOTOGRAPH YOU AND SPEAK TO YOU! It was such a pleasure! Your performance was such a fun experience, please come back to Austin ANYTIME! - DJ Hierba Malita